The Lord will keep you from all harm. He will watch over your life. Psalm 121:7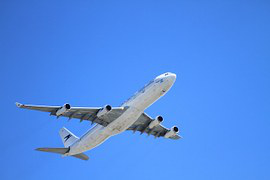 Before saying "Hello" to the flight attendants, I lay my hand on the plane and ask God for protection.
Occasionally when boarding a plane, I linger at the entrance a few seconds and wonder if anyone notices my routine. On my last trip home, I stared out the window while thoughts of God's love consumed my mind. As we soared through the sky, I noticed a shadow of our 747 jet in the clouds. What awed me was our plane had a large rainbow ring around it. For me, this was God saying, "Don't worry, I heard you." I smiled and thanked Him for His protection.
God wants us to know He will always protect us from hurt and harm. We just need to have faith He hears our prayers. The enemy will try to put fear in our minds, but that's when we go to God's Word to defeat anything he throws our way. The second part of the verse reminds me of the beautiful rings around the plane. God reassured me He heard my prayer and was watching over my life.
Now, more than ever, it is important that we ask God for constant covering over our lives and families. Even if you're traveling to a store five minutes away, ask God for protection. Then believe it is done.
God hears your prayers for protection, and He will give you peace beyond understanding.
(Photo courtesy of pixabay.)
(For more devotions, visit Christian Devotions.)
---
---