We can make our plans, but the LORD determines our steps. Proverbs 16:9 NLT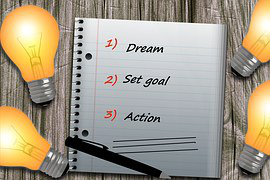 When my husband asked about my agenda for the day, I had no idea what was in store.
It was the day after Thanksgiving—which I consider a day to rest and recoup from all the cleaning, eating, and entertaining of the holiday. My husband had other plans. We had purchased some new flooring, and he was anxious to get started. Before I could think of a good reason to opt out, we found ourselves busy scraping up old tile, moving appliances, and shifting things from one place to another.
I'm a creature of habit and task-oriented. Interruptions don't always sit well with me. When my daily routine gets blindsided or my to-do list ignored, there's a definite disturbance in the force. But I've learned that God's plan is always best. Mark Lowry once said at a concert, "God's not in our plans; He's in the interruptions."
Think about some of the Bible characters whose routines were interrupted: Moses and the burning bush, the Good Samaritan, and Mary the mother of Jesus, Even Jesus Himself. He was on His way to raise a young girl from the dead when a woman with a bleeding disorder stopped Him. Another time, He was trying to teach when a crippled man with palsy was lowered through the roof.
The best part is what resulted from the interruptions. Moses was in the field doing business as usual when he was called by God to deliver the Israelites. The Good Samaritan stopped to help someone when all the religious people turned their heads away in disgust. Mary was informed by Gabriel that she was to become the virgin mother of the Messiah. And Jesus not only healed the sick woman and brought a young girl back to life but also healed the crippled man and told him his sins were forgiven.
Agendas are okay. Some of us couldn't live without our lists and schedules. But we need to realize God doesn't have to stick to our agenda. He has His own, and we have the privilege of being used to fulfill His plan and purpose on the earth.
If you want to be used for the Kingdom, get ready to be interrupted by God.
(Photo courtesy of pixabay.)
(Fo rmore devotions, visit Christian Devotions.)
---
---