Show me the right path, O Lord; point out the road for me to follow. Psalm 25:4 NLT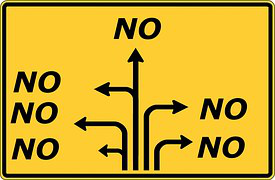 Sometimes it's hard to understand which direction life is taking us.
The choices we make have weight in the present and determine our future comfort level. It's hard to understand what's best when you don't have all the information to make a decision. The path is not always clear, but the Lord is always there to show the right way.
In the ministry, I have had to make tough choices. The choice to move your family or not to make a change is always difficult. You want the Lord Himself to descend from heaven and show you which path to take. At times I've known which way to go by the leading of the Lord. I either had peace to make the decision or the still small voice guiding me.
Elijah was searching for the voice of God. He was seeking His voice in an earthquake, tornado, and wind. The Lord was not in those big demonstrations of this planet, but Elijah found Him in a still small voice deep within his soul. God's power was demonstrated in the power of consistency. Big demonstrations won't always be there, but God's still small voice will.
Occasionally, we pray for guidance but still don't have peace about a decision. The Bible instructs us to follow after peace in our choices. Peace will guide you, and God's voice will direct your steps.
In my most difficult situations, I have found the inner guidance of peace as my navigation. If you are facing a major decision in your life, the Lord will show you His perfect path. The greatest demonstrations of the Lord can be found in the small gestures He gives to guide our steps. All we have to do is ask, and He will show us His will.
Listen and be aware that God's peace is the greatest navigation to your destiny. Whether a little choice or a big decision, the Lord will show the right path.
(Photo courtesy of pixabay.)
(For more devotions, visit Christian Devotions.)
---
---