Then David got up from the ground. After he had washed, put on lotions and changed his clothes, he went into the house of the LORD and worshiped. 2 Samuel 12:20 NIV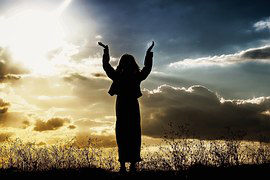 It wasn't necessarily the words that were offensive, but the timing.
You notice the oddest things during suffering. Physical touch or a simple hug are like a balm to your soul. Exuberant joys and deep pains come in waves. You crave the sounds and sights of nature. And sometimes things you never noticed before get on your nerves like the beeping of an empty IV bag … ot the lack of grace from a stranger.
During my chemo rounds, something bothered me that hadn't before: the phrase, "Praise the Lord!" Everyone (myself included) would say it every time we got news we wanted to hear. We said it when the doctors said there were no more signs of cancer. Yet when my friends' scans came back with a different result, there was silence.
David, a man after God's own heart, understood this. His baby became ill. David fasted in sackcloth for days. Despite what he wanted—despite what he fasted and longed for, he did not withhold his praise when God's answer was "No." He did a "Praise the Lord" when he received news of the child's death. He did not let bad news thwart the praise God deserved but gave it even in his storm.
God's hand isn't less able to save when we get news we weren't desiring. Silence can be a reflection of our shock or a pout because God is not giving us what we want.
My family started a new tradition. When we get good news we say, "Praise the Lord!" But when we get bad news, we say the same. Doing so has had surprising results. Those three little words remind us God is God and we are not. Things may not be going the way we would like, but everything is going to be okay because God is still on the throne. This is not all there is.
All good and perfect gifts come from God. Praise Him in the good and in the bad.
(Photo courtesy of pixabay.)
(For more devotions, visit Christian Devotions.)
---
---