Let your speech always be with grace, seasoned, as it were, with salt, so that you may know how you should respond to each person. Colossians 4:6 NASB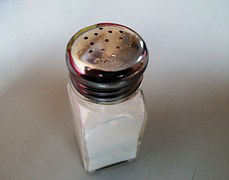 Salt on an ice cream cone is not on my list of Top Ten Favorite Foods.
My sister-in-law, Chris, and I walked across the hot plaza parking lot to a McDonald's. She had an ice cream cone in mind. The clerk was sullen and gave us no eye contact when we ordered. But I noticed the unusual name on her tag—something like Denisethia.
I tried to pronounce her name and asked if I was correct. I received a mere nod. Then I commented on how pretty it was and received a hint of a smile. Still no eye contact.
I laughed and asked, "Do people have a hard time spelling your name?" She was more verbal but still sullen.
"Oh, yes," she replied, "I gave up a long time ago on anyone getting it right."
I told her we had named our daughter Ann Elyse and, as a youth, she had kept a plastic box with strips of paper, recording the different ways people had spelled it.
Finally the clerk was engaged. Standing at the ice cream dispenser, she looked over her shoulder at me and said, "That's a pretty name. How do you spell it?"
When I told her, she said, "No hyphen?"
"No hyphen," I replied.
"Pretty name. Where did you get it?"
Now she was at the counter, handing Chris her cone and looking right at us.
"We got it from a movie that God used to turn us around to Him," I replied as I circled my finger 360 degrees. Her face lit up and we got a big smile. Salt sprinkled … demeanor changed … 360 degrees.
She said a friendly "Good-bye" as we left the shop.
I smiled, thinking, "Good-bye means 'God be with you.'" And I prayed, "God be with you, Denisethia."
Paul tells us to sprinkle our conversation with salt. Sometimes that seasoning may fall in an unanticipated spot. But the results of this seasoning are left to the work of the gentle Holy Chef.
Sprinkle some salt today.
(Photo courtesy of pixabay.)
(For more devotions, visit Christian Devotions.)
---
---