He makes clouds rise from the ends of the earth; he sends lightning with the rain and brings out the wind from his storehouses. Psalm 135:7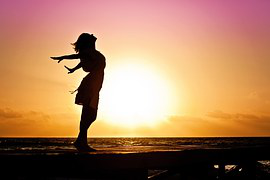 Trying to keep things perfect is as impossible as catching the wind.
We cannot make life perfect for ourselves or those we love. Nor can we shape the events in our lives so that nothing turns against us. A desire for perfection produces anxiety about achievements at school, work, or play. Our talents and gifts can get in the way when situations call for more than we can offer.
Jesus' friend Martha tried to make things perfect when He came to visit, but she needed help from her sister, Mary. Mary was busy sitting and listening to Jesus. Martha was probably a good hostess, constantly making sure everything was perfect. But she failed to recognize the only One able to make things perfect was in her house. Instead of working, she needed to sit before Him and learn.
When Jesus Christ comes into the heart of a person, He brings salvation and forgiveness of sins. He also brings joy—His joy. Pursuing perfection can rob us of joy. Jesus' joy can withstand the difficulties of life. Only God can catch the wind, control it, and command it. He is the creator of all.
The joy that comes from knowing Jesus pulls us out of despair, gives us hope, and keeps us trusting Him. He wants us to rejoice. Sorrow robs us of contentment and confidence and puts our well-being in jeopardy. But it cannot separate us from Jesus Christ. Our joy is in Him, not in our circumstances. When our hearts are filled with His joy, worry cannot find a space to settle—and that is perfect.
Trust in the Lord and in the power and wisdom of His strength. The result will be a perfect day.
(Photo courtesy of pixabay.)
(For more devotions, visit Christian Devotions.)
---
---