Let us put on a breastplate of faith and love and for a helmet the hope of salvation. 1 Thessalonians 5:8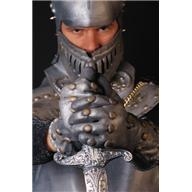 I had lost all hope. My baby was sick and not getting better. I cried and prayed to the Lord and felt as if He didn't hear me.
The Lord had moved my family from Tennessee to Ohio to help plant a church. It was here, in Ohio, that the Lord began to really stretch my faith, and one of the trials He allowed was the sickness of my second daughter.
I wish I could say that I was a picture of faith and hope, but quite the opposite was true. I was a mess. If God wouldn't listen and answer my prayers, I'd just completely turn my back him. And when I did, I ran head first into sin that I regret to this day. Yet the Lord did not leave me in that place of self-pity, selfishness, and hopelessness. Not only did He reach down and rescue me from myself, He eventually healed my daughter as well.
A breastplate and a helmet are both objects of protection against enemy attacks. He tells me to put on a breastplate of faith to protect my heart from fear ... the fear that He isn't there, that He cannot hear me, and does not understand. He tells me to put on the hope of salvation from the troubles in this life to protect my mind from wandering down the path of discouragement, despair, and depression. I have to put on His armor. Christ is there waiting to help me, but I have to make the choice to trust and then put my trust into action.
I am thankful to serve a God who knows, sees, understands, and is always in the business of drawing me back to Him.
Dress for Him. Wear His armor and trust He will care for you. He will.
(Photo courtesy of www.morguefile.com and boqueron.)
---
---