If you remain in me and I in you, you will bear much fruit. John 15:5 NIV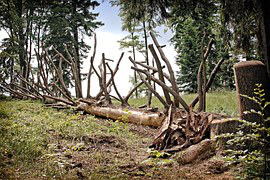 A brisk walk can be more refreshing than a nap.
Feeling drained of energy, I decided on an afternoon jaunt to wake up my brain. Starting with great intentions, I broke away from the car, only to end up on the nearest park bench. The weather stimulated all my senses. I wondered how such a beautiful day could follow the night's violent storm. The sky was brilliant, and the air was clean—filled with activity and sound. I squinted up to catch the birds in song. What I beheld was the beauty of the tree.
A Weeping Cherry was in full bloom, bringing loveliness to the area. In the beauty of this tree, I noticed a gap—a void where a branch should have been. I looked around and spotted a severed limb, drying on the ground. It still had flowers and green showed at the break. But eventually it would dry up and die, separated from its source of life.
I pondered how our fragile lives are similar. We have a natural void within our souls—a yearning from the core, for connection. When our relationship with Christ is not right, we can't walk in the fullness of the life He offers. Sometimes the break is subtle, beginning with a small crack and increasing until finally it snaps. As we wander from the truth, we become desensitized to the things of Christ and can't produce the fruit that makes us lovely.
John 15:5 offers a lifestyle leading to fullness we all can experience. He is the vine—the main lifeline on which we thrive. Growing up, our neighbor had a grapevine. It was thick and strong enough to bear the weight of every hanging cluster. Connected, those clusters developed from scrawny limbs and became branches bearing plump grapes that would burst with flavor and nourishment. Other branches broke off the main, leaving the cluster to rot and smell.
We must purpose to remain in Christ through prayer, study, and church involvement. In this way, we grow to maturity as part of His cluster. When we take our eyes off the vine, we disconnect from the Branch who gives us life. Circumstances can easily draw us away.
Live your life in abundance with Christ as the root. Apart from Him, you can do nothing.
(Photo courtesy of pixabay.)
(For more devotions, visit Christian Devotions.)
---
---