He who dwells in the shelter of the Most High will abide in the shadow of the Almighty. Psalm 91:1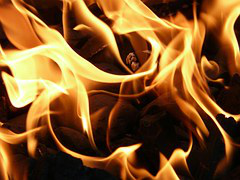 "Stop, drop, and roll" are basic safety instructions taught to emergency service providers when encountering a victim who is on fire.
When someone has caught on fire, halting movement is imperative since it restricts fanning the flames. Dropping to the ground allows the body to roll against another surface to suffocate and extinguish the flames.
Sometimes we can feel as if we're symbolically ablaze. The same process—stop, drop, and role—can be implemented in our spiritual life, whether seeking God or engaging in warfare with Satan.
Stop what you're doing and see what the Bible says. The Bible does not address every problem encountered, but it is filled with godly values and principles that are revealed by the Almighty. Proverbs in the Old Testament or James in the New Testament are good places to begin. Each book is filled with wisdom.
Drop to your knees in prayer, asking God for guidance. While there is no requirement to pray from a kneeling position, I find myself praying in this manner when I feel pitiful or praiseworthy. Doing so demonstrates humility, while petitioning God for answers and direction.
Roll your thoughts by a mentor or wise counselor. Seeking wisdom from a mature follower of Christ is modeled throughout Scripture. Moses mentored Joshua. Nathan mentored David. Elijah mentored Elisha. Jesus mentored all the apostles—but with greater intensity focused on Peter, James, and John. Barnabas mentored Paul who in turn mentored Silas, Timothy, Titus, and many others. Paul wrote most of the New Testament. Barnabas also mentored John Mark who wrote the gospel of Mark. Without Barnabas, the New Testament would look different.
As you absorb biblical truth, open yourself to God's direction. Having it reinforced by mature followers of Christ brings things into sharper focus. The circumstances might not get easier, but the outcome will likely be aligned with God's will.
There is no better way to dwell in God's shelter or abide in His shadow than to stop, drop, and roll.
(Photo courtesy of pixabay.)
(For more devotions, visit Christian Devotions.)
---
---