Always give yourselves fully to the work of the Lord, because you know that your labor in the Lord is not in vain. 1 Corinthians 15:58 NIV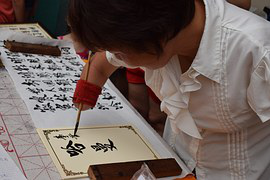 I shed a few momma tears today. It's difficult when you have a child with a disability … hard on the heart.
Our son has worked hard to be the best he can be. He's worked twenty years at a local grocery store, rarely missing a day. Recently, they mentioned a possible new position for him in an upcoming expansion. He was thrilled they asked, but it dealt with money, and he knows numbers and counting are both something he cannot manage.
"Mom, I thanked them for the opportunity. I was honored they asked, but I can't count so good. So I passed," he said.
I told him how proud I was of him. First, that he'd thought through the invitation and weighed the pros and cons. Second, that he realized the sum of a disability does not equal the sum of who he is. And finally, that he was so darned polite about it.
He smiled real big and said, "It's good, Mom. I'm happy."
It was all I could do to keep clear eyes until he crawled out of the car. But when the door shut, my momma heart began to bleed. I cried all the way to work, hurting for my boy. He works so hard. Every effort is deliberate and determined, but there are things his disability simply will not allow.
Paul worked diligently to spread the Word of God. Sometimes his efforts were accepted, and at others times they got him tossed into prison. Still, his efforts to do his best for the kingdom never ceased. He knew God would never let his work be in vain. Even when it seemed that way.
Disabilities aren't fair. They're dealt to us without invitation, but it's how we manage them that sets the bar. Our son is a shining example of God's love. He takes his work as a bagger seriously. If you know him, you'll find such nobility. Yeah … that's the word. Nobility. Our disabled child is a child of the King, born of nobility. Gifted from above. He doesn't fit the mold of the world, but you wait until heaven. He'll be counting every head entering the gates and letting God know right up front if a lamb is missing.
Our son's diligent work does not go unnoticed by his employer or the customers he loves so much. And God blesses him.
Put your best work forward for the Kingdom, and God will never let it be in vain.
(Photo courtesy of pixabay.)
(For more devotions, visit Christian Devotions.)
---
---