Beyond all question, the mystery of godliness is great. 1 Timothy 3:16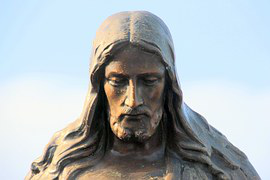 He stopped and knelt beside the little girl, took her hand in his, and spoke softly.
Several years ago, my seven-year-old granddaughter, Ashley, and our family went to see a live performance of the life of Christ. During intermission, the man playing Jesus walked up and down the narrow aisles and spoke to different ones as he passed. He stopped by Ashley and looked directly into her eyes. Ashley's eyes were glued to his as a look of love and complete acceptance covered her face.
We watched him continue down the aisle, touching many and talking with others. I turned to my granddaughter, took her into my arms, and said in a quiet voice. "Ashley, Jesus talked to you honey."
"Oh, no," she replied with eyes full of complete reverence. "That was God, Gramma."
My heart skipped a beat and the lump in my throat was as big as a fist. She was right. Jesus is God incarnate. God took on flesh and came to earth as a human being to die on a cross of disgrace to give us grace and life eternal.
Ashley had no doubt she and the man in the linen robes and dusty sandals were the only two in that crowded room where more a thousand people had come to witness something so few understand.
Jesus still walks among us today and speaks to us daily. Listen to what He has to say.
(Photo courtesy of pixabay.)
(For more devotions, visit Christian Devotions.)
---
---