So God has put the body together such that extra honor and care are given to those parts that have less dignity. 1 Corinthians 12:24 NLT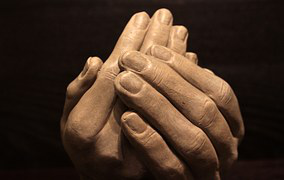 The church is not a social organization with all sorts of cliques and a pecking order mentality; it is just the opposite
God has designed the Body of Christ so that those we might regard as less honorable receive extra care and honor—a place where the first shall be last and the last first. The parts of the body that appear weakest and unimportant are the most necessary.
The church often values people by their function, not their intrinsic value. People are not valuable because of what they can do but because they are made in God's image and bought with a price—God's only Son.
Honoring the least among us is crucial because they are the most important. Though sometimes unnoticed or unrecognized, they are needed to keep the body functioning as designed. Doing so is also the way God promotes unity.
When all members care for each other equally, harmony in God's family occurs. Affirming all God's people happens when we realize there are no big or little people in the Body of Christ—just sinners in need of grace. The land is level at the foot of the cross.
Jesus spent more time with three of His followers than with His other disciples. The time given to them did not indicate heightened value. It was about function, training them as future leaders in the kingdom. In any church, ministry, or Christian organization, our love for the least among us is a measurement of how much we love Christ. Jesus said, "I tell you the truth, when you did it to one of the least of these my brothers and sisters, you were doing it to me" (Matthew 25:40 NLT).
Follow Jesus' example; honor the least among you.
(Photo courtesy of pixabay.)
(For more devotions, visit Christian Devotions.)
---
---