You are the earth's salt. But if the salt should become tasteless, what can make it salt again? It is completely useless and can only be thrown out of doors and stamped under foot. Matthew 5:13 Phillips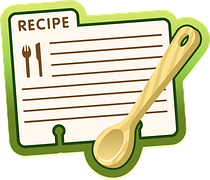 Whether a few teaspoons or a pinch, salt is necessary.
Salt seasons, flavors, preserves, heals, melts ice, and is good for cooking and baking. If salt represents our lives as God's children, we must discover how to show its qualities in our actions.
November and December are baking months at our house. We share cookies and sweet breads with family and friends—all of which takes time. The holiday months are so full of activities that it's easy to get caught up in the stress of self-assignments.
I remember a Christmas when I was ten. Our family moved to upstate New York where my father attended seminary. He worked full-time and attended classes for three years. Without warning, he had an eye hemorrhage. We drove from Upstate to Manhattan bi-weekly for his treatment. Our lives hung in the balance as resources stretched to meet needs. But God sent groceries to our front door through friends' gifts.
Dad's schooling ended just before Christmas. Our parents gave each of us a small present. My sister and I received metal recipe boxes with extra index cards inside. Though they felt sad giving us such meager gifts, we felt their love. Their salt made a tough time tasty.
When I was in Junior High, Homemaking was a course. Cooking class peaked my interest in baking, and I asked for favorite recipes from family members. I typed each card's recipe treasure: Gram's favorite cake, Aunt Shirley's brown edge cookies, Aunt Violet's heirloom pastry, and Mother's pumpkin pie. I still use that recipe box which is chock-full of memories.
There is also a recipe for Christmas Joy. Beat together 1/2 cup of better behavior, 2 cups of sweet blessings, and 2 tablespoons of "stay together." Set aside. Then measure 1 ½ cups of duties and 1 ½ cups of desires. Sift out 1 cup of unnecessary tasks, duties, and desires. Combine all ingredients with 1 teaspoon of salt of Christian savor, 1 teaspoon of spice of minute vacations, and 1 teaspoon of meditation. Add the spiritual fruits of love, joy, and peace. Use a slow "oven." Do not over-do.
Read your recipe to make sure your ingredients are on God's list.
(Photo courtesy of pixabay.)
(For more devotions, visit Christian Devotions.)
---
---