Be joyful always; pray continually; give thanks in all circumstances, for this is God?s will for you in Christ Jesus. 1 Thessalonians 5:16 NIV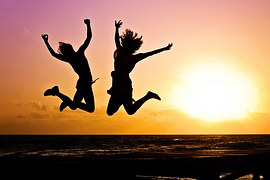 Jessica sat at the back of the church.
Christmas Eve had arrived, and the place was rockin'. The organ bellowed the familiar "Joy to the World" to pews packed with smiling folks singing their loudest. But when the service was over and the crowd filed out—anxious to begin their celebrations, Jessica didn't move.
Pastor Tom sat next to her in the empty sanctuary and listened. "Just believe in Jesus. Isaiah told us the Messiah was coming, and here He is. We can prove it to the world. Just believe."
"But I'm not filled with joy, so what good does believing do?" Jessica's sobs echoed on the dark, wooden walls.
"It seems Paul thinks there's something else involved," said the pastor. "He tells us to follow God's will, pray continually, give thanks for everything, and decide to be joyful. Our prayers, studies, and devotional time with Him are where we feel His joy."
Our hearts control our whole being by pumping life blood throughout our bodies—even into our brains so we can make decisions. We can decide to believe. What's in our hearts is who we are. When we align our hearts with the heart of our Lord Jesus, something new pumps through our bodies. Something pure and clean—good perfect blood. That good blood shapes us to be who we are for God.
As we celebrate the birth of our Lord in a manger, be ready for a joyous life-changing Christmas transfusion. Without the manger and the cross, we can't believe. Without the manger and the cross, we cannot be cleansed to love and forgive others. We can't even know our God.
Let Christmas change you. Believe and pray a bit more. Let your heart swell with the heart of Jesus in you. Let others see someone different because of the manger.
Give Jesus your heart. Then let others see Him in you so they can know you believe.
(Photo courtesy of pixabay.)
(For more devotions, visit Christian Devotions.)
---
---