Finally, be strong in the Lord and in the strength of his might. Put on the whole armor of God that you may be able to stand against the schemes of the devil. Ephesians‬ ‭6:10‬ ‭ESV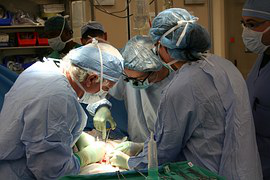 The battle against flesh and blood is waged in an operating room every day.
Standing against the patient's blood and tissue—not to mention the irrigation saline and contaminating germs, surgical personnel don't wear their outer garments to make a fashion statement. Usually, the attire is called a gown, but it isn't what a woman would wear to a posh evening at the gala ball.
Surgical gowns and their attendant accessories—such as gloves, masks, and face shields—have an important role to impede the transfer of liquids and infectious agents. That's the battle of the operating suite, and the apparel is well-suited for the task.
The same is true of another similar outfit. Paul called it the armor of God. He told the Ephesians to wear all of it. His admonition is still timely. Every day, we are in an operating suite called life with far more dangerous consequences. As in the operating room, the question isn't whether we are going to encounter things that might be harmful. We will. The question is whether or not we have on the right attire. God's armor provides protection—not against the flesh and blood of an operation but against every evil force Satan can muster.
Satan's plan is to bring us down. The rulers, authorities, and cosmic powers of darkness intend to infect, incapacitate, and destroy us. We would never enter the operating room without a gown and be totally exposed. Nor should we enter a new day unarmored, unequipped, and totally exposed.
Put on God's armor, and be strong in the Lord and in the strength of His might.
(Photo courtesy of pixabay.)
(For more devotions, visit Christian Devotions.)
---
---