So do not fear, for I am with you; do not be dismayed, for I am your God. I will strengthen you and help you; I will uphold you with my righteous right hand. Isaiah 41:10 NIV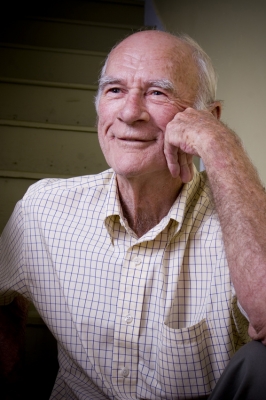 The night before my grandfather's funeral, my grandmother told me about his final moments. Pa-Pa had been very sick for several days and went to the hospital. "His vital signs are rapidly dropping," the doctor told my grandmother and aunt.
Her legs caved from the news. "God, please help me," Mom-ee prayed. My grandfather was weak and couldn't talk, but my aunt patted his head and continued to repeat, "Daddy, we love you." His time was near and the nurse encouraged my grandmother to offer him permission to pass.
"Marion, I have loved you for fifty-eight years. Now you are about to go to heaven to see Jesus. You have talked about heaven many times. Now you are going, and then I'm coming. So you go on."
Pa-Pa moved his throat as if to say something. He closed his eyes and was immediately in heaven. My grandmother shared this story without shedding a tear. Proud of herself for having the strength to stand upright and speak clearly to her husband in his last moments, she knew God was her helper.
When you face challenging moments, God is present. Your hurdle may be a difficult exam at school or a financial obstacle, but God promises His presence in every situation – even the ones that cause fear and stress.
Ask Him daily for the strength to face your obstacles head-on. Then move forward, standing in His strength one moment at a time. God will strengthen you and help you as you trust Him.
Prayer: God, you are our helper, even when life is difficult. Strengthen us to face every new challenge today.
(Photo courtesy of office.microsoft.com.)
( For more devotions visit us at www.christiandevotions.us )
---
---