The Lord is good to those who wait for Him, to the soul who seeks Him. Lamentations 3:25 ESV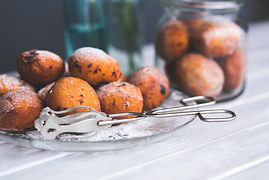 My grandson was in a baseball tournament, and it was the first night of the Blueberry Festival.
When I arrived to watch his game, my son greeted me. In his hand, he held a plastic bag containing two dozen blueberry donuts. Their fresh-baked aroma seeped through the bag, and my mouth began to water.
As we sat in the stands watching the game, the blueberry donuts became the talk among the locals.
"Have you bought your donuts yet?"
"Oh, yeah! I bought ours this evening before the line formed."
"Not me; I waited for over an hour to get mine."
My curiosity was piqued. With all the playful banter going back and forth, I decided I must taste these donuts. When the game ended, I found the donut stand and stood in line.
Bartimaeus also waited. He was a blind beggar who sat beside the busy road that led into Jericho. Although the Bible doesn't say he was waiting for Jesus, I believe he knew Jesus was in town.
When Jesus, His disciples, and the large crowd of followers left Jericho, Bartimaeus heard them coming. He shouted, "Jesus, Son of David, have mercy on me!" Many rebuked him and told him to be quiet, but he shouted all the more.
When Jesus heard Bartimaeus, He stopped, called to Bartimaeus, and asked him what he wanted. Bartimaeus said, "I want to see."
Jesus told Bartimaeus to go. "Your faith has healed you," He said. Immediately Bartimaeus received his sight and followed Jesus.
For Bartimaeus, sitting along the roadside day after day was worth the wait. Eventually, he received his sight from the One who heals. His faith and determination caught Jesus' attention. With compassion, Jesus reached out and granted his request.
Although waiting can be tedious, it was worth it for Bartimaeus. After standing in the donut line for more than a half an hour, I claimed my dozen and left. Once home, I quickly opened the box and bit into a succulent, sugar-glazed blueberry donut. As crazy as it sounds, standing in line was worth the wait.
When we seek Jesus with all our heart, our faith, and our determination—like Bartimaeus, He will not overlook us.
Seek Jesus today. Call out to Him. His compassionate touch will be worth the wait.
(Photo courtesy of pixabay.)
(For more devotions, visit Christian Devotions.)
---
---