Therefore a man shall leave his father and his mother and hold fast to his wife, and they shall become one flesh. Genesis 2:24 ESV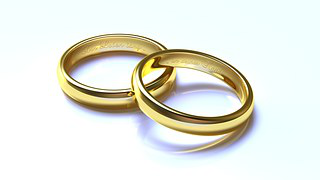 Music mirrors life.
On Labor Day afternoon, I broke out the sunscreen, inserted the earbuds, and listened to iTunes as I enjoyed the poolside.
A well-known theme quickly developed in the music. Men sing about finding love with their eyes—enjoying bikini tops, tan legs, and cotton dresses. Women find love through the heart—singing about roses, candles, and letters.
Eventually, love leads to the altar. The music continues as newlyweds become unalterable, making each less attractive as the eyes and heart become discontent. The wedding rings slip from the fingers and find their way to a bathroom drawer.
I've been married to the same woman for thirty-three years. We experienced four good years, followed by six trying ones—due to sin in my life--and now a twenty-three-year winning streak. As a result of our public story, we've provided a lot of counseling.
I've discovered wedding rings are easily removed when things get routine or frosty. I've heard every imaginable reason, but I have seen ring fingers remain bare even when the band was removed for a legitimate reason.
A ring not only symbolizes wedding vows but also offers non-verbal communication—such as "I'm happily married," or "I'm unavailable."
When the ring is permanently removed, it shouts a disheartening message to the spouse that commitment is contingent or sidelined altogether. It tells onlookers you're a free agent if the price is right.
I live near Austin, home of the Texas Longhorns. After an opening season defeat of Notre Dame, university paraphernalia came out en-masse. I saw more UT shirts, shorts, and hats after the victory than during the previous losing season. Pride was restored. "Hook 'em horns" was the celebration chant.
People tend to wait for a feeling to re-engage—a feeling that may or may not appear. Men and women of virtue remain emotionally connected despite their feelings. Positive actions are a good way to help feelings of affection resurface so victories are won.
If you're married, value your vows and respect the symbolism found in the ring. If you need to remove it for a legitimate reason, make it temporary. Take the "Wedding Band Challenge."
(Photo courtesy of pixabay.)
(For more devotions, visit Christian Devotions.)
---
---