And he said: "Truly I tell you, unless you change and become like little children, you will never enter the kingdom of heaven." Matthew 18:3 NIV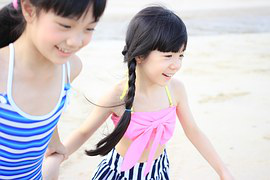 The words popped out of her four-year-old mouth at the right moment: "The Lord is my shepherd."
A friend and I were talking in my living room. Tears streamed down her face as she confided in me about a burden she had carried for many years.
Seeing my friend cry, the little girl I babysit rushed over to her, gently stroked her face, and quoted the opening phrase of Psalm 23. My friend smiled and my heart overflowed.
Every day of caring for this little girl, I helped her memorize phrases from the Bible. I hadn't focused on the meaning of the verses; I merely tried to instill Scripture into her long-term memory, figuring she would learn the meaning later.
Now I knew the truth of Scripture had become real to this little girl even though in her young mind she had no idea what a "shepherd" was. She found comfort in her spirit from the timeless words of the Shepherd's Psalm. The Holy Spirit Himself had revealed the truth of this Bible verse to her.
Jesus said we must be like little children—simply believing and eagerly learning. As adults, we often ignore Christ's charge to be childlike. We wring our hands instead of trusting God. While the Holy Spirit wants to comfort us, we persist in carrying our burdens. As a result, our spirits are weighed down and our hope is crushed.
We should stop like children and listen to the gentle voice of the Holy Spirit, guiding us into all truth—truth that sets us free.
When worries or fears press in on you, stop and bow your head. Give your problems to God, one by one. Be led as a child, and let the words of Christ change your life.
(Photo courtesy of pixabay.)
(For more devotions, visit Christian Devotions.)
---
---