And my God will meet all your needs according to his glorious riches in Christ Jesus. Philippians 4:19 NIV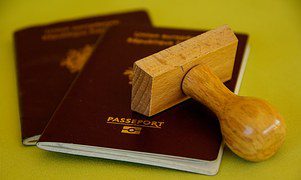 The money cupboard was bare.
Finances were available in my home bank, but I couldn't access them from the missionary base overseas. My passport was expiring. Even though my duration to stay was confirmed, my financial situation looked dismally uncooperative.
Many short-term missionaries slept around me, and it was a challenge to remain silent about my dilemma. It was time to trust God to come through. By an act of faith, I had made an appointment with the consulate to renew my passport the next day. Surprisingly, I fell asleep and experienced total peace. God usually knows something I don't.
Awakening fresh and ready to go—and after a quick prayer—I swung my legs over the side of the bed. As I did, my hand touched the small bedside table. I felt something that wasn't there the night before: a stack of money.
Underneath the money, I found a small hastily written card. It read, "As we were leaving for our flight home early this morning, Father God told us to gather all our note money and give it to you. We did not know if you have a need but He does."
Even though believers supplied the finance, the gift came from the Father in heaven. This is why the apostle Paul said, My God will meet all your needs. Then when he said, according to his glorious riches, Paul was stating God had an abundant supply and was more than able to provide.
Often in life, we don't know what to do, and there seems no solution in sight. But God knows. He is looking out for our needs, wanting us to trust Him to be there for us—to bring an answer. He is never late, seldom early, but always on time.
If you're struggling with a financial situation beyond your control, don't be anxious and worried. And don't try to solve the dilemma yourself. Trust Father God instead.
Lean on God's provision. He is more than capable to meet all your needs according to his glorious riches in Christ Jesus.
(Photo courtesy of pixabay.)
(For more devotions, visit Christian Devotions.)
---
---