But you, when you pray, go into your room and when you have shut your door, pray to your Father who is in the secret place. Matthew 6:6a NKJV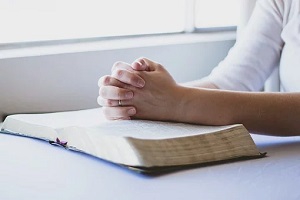 Nineteen children. That's right.
John Wesley's mother, Susanna, had a large family so she was constantly busy. When she wanted to be alone with the Lord to pray, she pulled her apron over her head. The children knew not to disturb her because she was having quiet time with her Savior. She was in her "prayer closet" as she sat in her chair.
Even if children aren't the reason for our busyness, the enemy of our soul makes sure we stay busy with other things so we have no time left to spend with the Lord. The wicked one wants us to be tired, discouraged, or too distracted to go into our prayer closets.
Anyone can have a prayer closet—or perhaps a prayer chair as I have. One that has been in the family for years. One covered in a lovely rose pattern but with faded and worn places on the arm rests. One used by my mother and grandmother as they took time to be alone with the Lord Jesus. This chair brings many memories to mind, as does the well-used Bible lying on the table beside the chair and the worn rug where grandmother kneeled.
In our prayer closets, we can pour out our hearts to Jesus, praise Him, sing to Him, read the Word, or just listen for Him to speak to us and give us strength for the challenges of the day.
Take time each day to praise Jesus and share your concerns with Him. He will renew your strength.
(Photo courtesy of pixabay.)
(For more devotions, visit Christian Devotions.)
---
---