You will seek me and find me when you seek me with all your heart. Jeremiah 29:13 NIV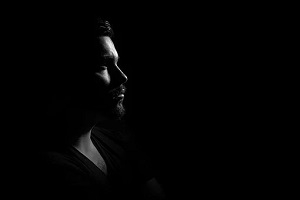 "Follow the sound of my voice."
With unsure steps, I inched through the darkness toward our blind guide. I was beginning to doubt my decision to sign our family up for the Dialogue in the Dark simulation. We were supposed to gain empathy for the blind and awaken our other senses as we shed our world of pictures.
The brochure made the adventure sound like such a good experience. In the first moments of total darkness, I lost my husband and my son in the crowd. Now I fought panic as I bumbled my way—one hand grasping my cane, the other in front of me.
But a gentle touch on my arm made me jump: "Mama?"
"I can't believe you found me!" My son was a superhero with a genetic homing device. He could locate his mother in complete darkness. "You're amazing!" I told him.
"Not really," he admitted, linking arms. "I've been looking for you ever since the lights went out."
Like the baby bird in P.D. Eastman's classic story, he had asked everyone he'd bumped into, "Are you my mother?"
God asks us to seek Him just as earnestly. When we're unsettled and unsure of which way to go—in the dark—He wants us to seek Him with all our heart. Prayer is one of the ways we can do this. But praying with all our heart is different than asking God for peace, comfort, wisdom, guidance, trust, strength, or hope. We must pray with one desire: to be in God's presence.
When we earnestly pursue an encounter with God, He promises He will not reject us. His presence may not be announced with fanfare—no angels singing or bright lights of heaven—but our hearts might leap at the beauty of creation. We may feel peace in the midst of crushing circumstances, or joy in the midst of grief. These are quiet yet miraculous signs of God's presence.
When the guide called us to leave, my son and I fumbled our way toward the one who would help us navigate the darkness … the one who had been there all along.
God is never far away when you seek Him. Seek Him often.
(Photo courtesy of pixabay.)
(For more devotions, visit Christian Devotions.)
---
---