For if ye forgive men their trespasses, your heavenly Father will also forgive you. Matthew 6:14 KJV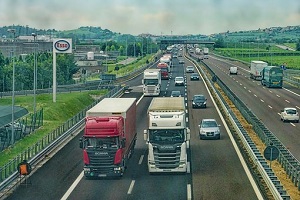 As the truck driver maneuvered his truck into the turning lane, he glanced at traffic around him.
A young girl steered her car into the lane beside him. Watching her, he could see she didn't know what lane she needed. She bobbed her head left, then right. She was in the wrong lane. Quickly, she pressed the car's accelerator, slid in front of his semi, and then hit her brakes.
With no place to go, the truck driver knew he'd have to jackknife his truck if he didn't want to kill the girl and her friends. A split second passed as he skidded toward the ditch, feeling the truck breaking and rolling. He awakened to a hospital bed and multiple injuries, some serious.
As he lay in a bed, the door opened. The young girl from the car entered. Hesitantly, she stepped forward. "I'm sorry … I'm so sorry. Can you ever forgive me?" Her tear-filled eyes begged for forgiveness.
"Honey, I forgave you as soon as you pulled in front of me. God knew I didn't want to hurt you, so He gave me wisdom to jackknife my truck. I am glad you are alive."
"I'm glad you're alive too." Stepping to the bed, she hugged him.
With serious injuries, the truck driver gave up a life he enjoyed for a young girl he didn't know.
Jesus knows each of us by name. He loves so much that He willingly gave His life for us. But Jesus is more than just a good man. He is God and offers forgiveness for our sins. Whatever we need forgiveness for, He will forgive if we ask sincerely.
Do you need to give or to receive forgiveness?
(Photo courtesy of pixabay.)
(For more devotions, visit Christian Devotions.)
---
---