For you were once darkness, but now you are light in the Lord. Live as children of light. Ephesians 5:8 NIV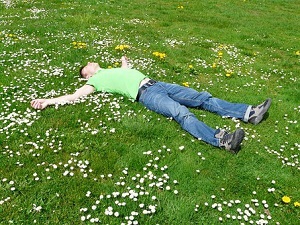 I had a problem.
A Boy Scout weekend camping trip coincided with my Sunday to be acolyte in our church. As a Patrol Leader, I was expected to lead my patrol on the camping trip, as well as be in church that Sunday.
Unable to find a replacement for either duty, I decided to do both jobs. I would take my Scouts on the camping trip, and my dad would get me early that Sunday morning and take me back to do my acolyte thing in church. I had it covered.
But teenage boys aren't prone to sleep when on a camping weekend away from home. By flashlight, we told ghost stories, talked sports, and discussed the marvelous mysteries of female anatomy until way past midnight.
Before I knew it, the sun was up, and Dad had arrived to pick me up. Once at church, I donned my white acolyte robe. Out I went, walking with pace and reverence to the altar where I lit the candles and then returned to my reserved front pew.
During the first half of the service, we did a lot of standing and singing, so I was reasonably active. But as Rev. Hutchinson launched into the sermon, my eyes slowly shut. My head drifted back to rest on that lonely front pew, and in front of the entire congregation—with my mouth gapped open—I fell sound asleep.
At the end of the sermon, the kind lady sitting behind me gently nudged me awake, and, blinking away the sleep, I quickly woke up enough to extinguish the candles as the service concluded. Later, I learned Rev. Hutchinson had explained to the congregation my double-duty weekend and told them just to let me rest. But at that moment … I was mortified.
I wish I could tell you I learned my lesson that Sunday morning—that never again would I let the bright baubles of the world distract me from learning about God's Word—but I've had to learn it over and over. Wasted hours slip away on television and internet foolishness.
One of these days, I'm going to feel that gentle nudge on my shoulder again, and I'm going to turn and see my Lord. I hope I'm not mortified, again.
Are you ready for the Lord to tap on your shoulder?
(Photo courtesy of pixabay.)
(For more devotions, visit Christian Devotions.)
---
---