Listen carefully to Me, and eat what is good, and let your soul delight itself in abundance. Isaiah 55:2 NKJV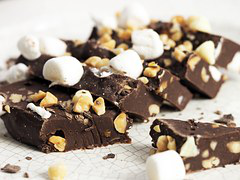 From November to New Year's Day, we face an onslaught of delectable goodies. By the first week of January, many of us are bloated, lethargic, and several pounds heavier.
About the same time every year, calorie-laden holiday treats talk to us. "Have another slice," calls the pumpkin pie. "Go for some more," beckons the chestnut stuffing. "Pour it on," urges the gravy boat.
Food plays such a central role in our lives because God made it that way. Even the fall of mankind resulted from disobedience over food. The first request in The Lord's Prayer is for "our daily bread." One of Jesus' most famous miracles involved multiplying a little boy's lunch to provide a feast for thousands. And the Book of Revelation talks about a glorious banquet: the Marriage Supper of the Lamb.
No doubt about it, food is a gift from God. But when we misuse this gift, it can create problems. Many Christians struggle with preventable diseases that hinder them from fulfilling their God-given purposes: enjoying their families, fully participating in Christian fellowship, and pursuing their hobbies and interests.
One of my friends has type two diabetes and recently began a health and fitness regimen that is producing great results. She has lost weight and inches and looks radiant. She has a heart for serving God and people and is determined to improve her health so she can fulfill God's calling on her life.
This year, let's use the excessive feasting during the holidays as a wakeup call. Instead of indulging in every decadent temptation that calls our name, let's choose to enjoy them moderately while loading up on the healthy options.
Our bodies—and how we treat them—matter to God. Rather than going for the second piece of pecan pie, "taste and see that the Lord is good."
(Photo courtesy of pixabay.)
(For more devotions, visit Christian Devotions.)
---
---