Everyone who competes in the games goes into strict training. They do it to get a crown that will not last, but we do it to get a crown that will last forever. 1 Corinthians 9:25 NIV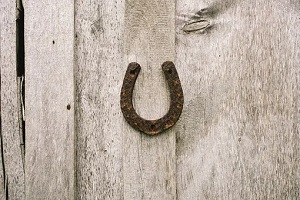 Close is not always good enough.
When a surgeon removes a malignant tumor, close won't cut it (pun intended). Surgery requires precision. A soprano exits her graduate recital in devastation if she misses the final note. That one glitch overshadows her otherwise flawless performance. A truck driver backs into a loading dock but misjudges the opening. His error costs thousands of dollars in repairs. An Olympic swimmer touches the wall, fractions of a second behind another athlete. That miniscule moment means silver rather than gold. A firefighter in route to a trapped family can't wait for changing traffic lights. Delays equal death.
Most that we do does not involve such devastation if we fall short of perfection. We give our house a lick and a promise when we don't have time to clean it well. We run our car through a drive-through car wash rather than take the time for a full wash and wax. We study enough to make a good grade rather than an A+. As in a game of horseshoes, if we get close to our goal, we do well.
Nevertheless, two decisions overshadow all others. What will we do with God's offer of salvation? We have only two choices. Either we accept it or we reject it. If we accept it, we again face one of two choices. We share it or we keep it to ourselves. In both instances, our choice holds eternal consequences.
In the game of life, let's play to win. Let every choice you make honor God and draw others to Him.
(Photo courtesy of pixabay.)
(For more devotions, visit Christian Devotions.)
---
---