Thanks be to God for his indescribable gift! 2 Corinthians 9:15 NIV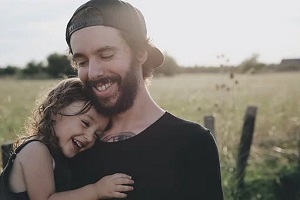 Gladys' father had a heart filled with love, and he showed it one Christmas Eve.
The Great Depression surged in 1929. Ten-year-old Gladys knew money was limited, but she still hoped for a present. Her hope was lost when her mother said, "Gladys, we don't have any money, so don't expect a gift this year." Even though she understood, Gladys cried herself to sleep.
Sometime during the frigid night, she heard their old truck pulling out of the driveway. She wondered where her father was going. Later, she was awakened by her father who stood beside her bed. With eyes filled with love, he handed her a book and said, "Merry Christmas, honey." Gladys realized her father had gone to the general store in their small town to purchase her sacrificial gift.
That happened over eighty-five years ago, and Gladys has received many gifts since then. But the gift she will never forget is the one from her loving father who sacrificed his time and money to show love to his child.
Gladys was blessed to have a loving father. Many of us have experienced a similar love from our fathers. However, some children have never known a father's love. Perhaps their father abandoned them at birth and their mother struggled to provide a living. Some fathers abuse their children, verbally and physically. When the dad comes home reeking of alcohol, the children know to get out of his sight. They will never experience the love lavished on Gladys by her father.
But there is a Father who loves us unconditionally, no matter who we are or what we have done. We need not cringe in fear or hide from Him. God, our Father, loved us so much that He gave His most perfect Gift so that we might have salvation and life eternal when we accept His Son as Lord and Savior.
Have you accepted God the Father's most precious Gift?
(Photo courtesy of pixabay.)
(For more devotions, visit Christian Devotions.)
---
---