For the Lord does not see as man sees, for man looks at the outward appearance, but the Lord looks at the heart. 1 Samuel 16:7 NKJV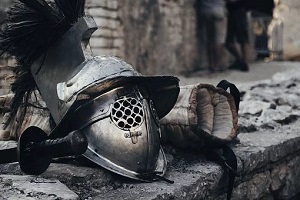 Startled from a slumbering sleep, I sat straight-up in bed.
Panicked breaths and fear gripped me. My mind raced with dreadful thoughts of how I could conquer this giant. Tears filled my eyes. I cried to God for help…for answers…for strength. Within moments, He reminded me of a small stone I kept tucked in my purse—given to remind me I wasn't alone. Occasionally, I still reach in, pull out the stone, and remember how it symbolizes God's power for me.
The strength and power of God in David were stronger than a nine-foot giant bearing armor that weighed 125 pounds and a spear that weighed seventeen pounds. David was a courageous and skilled warrior, not because he was large in stature or suited in heavy armor but because he was strong in the Lord. As a shepherd tending his father's flock, he had killed a lion and a bear with his bare hands to protect his father's sheep. Facing Goliath would be another opportunity to show he trusted God's power and not his own.
David was also a spiritual warrior with a brave and guarded mind. He didn't let people or events distract him but kept his heart and mind focused on God. He did not let fear and doubt distract him. He could have stopped, looked at Goliath, and run back up the mountain—flying white flags of surrender and defeat—but he didn't.
David ran toward Goliath—weapon in hand—knowing God went before him. David was a single warrior, but not alone. God's presence surrounded him, and the Spirit of God came upon him. David selected five stones for his sling shot. The precise size and details of the stones had to be accurate to slay this giant. David released the stone and trusted God for the outcome.
When we face a giant, we don't fight alone. God is with us, goes before us, and prepares us. God's Word is our accurate weapon of force for battle, giving us every detail we need to stand strong and fight against our Goliaths.
Remember your battle belongs to the Lord. You are not alone.
(Photo courtesy of pixabay.)
(For more devotions, visit Christian Devotions.)
---
---