The fear of the Lord is the beginning of knowledge, but fools despise wisdom and instruction. Proverbs 1:7 NIV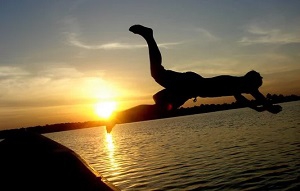 "Man overboard!"
Our calls to the boat dock went unheeded. What seemed like an unthinkable situation happened before our eyes. Our friend dangled from the side of the boat, unable to pull himself onto the deck. He exhausted himself trying, but nothing could anchor his weight.
We later learned one important safety feature was missing from that rented pontoon: the drop down ladder. Fuming mad, tired, and embarrassed, the man had read the rental agreement which prohibited swimming from the pontoon. On previous trips, he had done the same thing. With no ladder, however, he was stuck. A lawyer by profession, our friend was humiliated.
All of us have ignored Solomon's warning and taken shortcuts in life. Some didn't turn out so well. We later felt like fools. Our friend knew the rule … but chose to ignore it. In the end, he attached himself by rope to the front of the boat, and we pulled a humbled person to shore by putting the boat in reverse.
As believers, we often look for ways to get around God's rules. We've read the Bible, sat through Sunday sermons, and worked in the nursery at church. We may have even memorized verses. Yet, if we're honest, doing things God's way is not always convenient.
A close friend confided in me that her husband, a policeman, often cleared their teenage son of drug charges. He never had to face the consequences of breaking the law. Today, this young men struggles to be a stable role model.
A loving and caring God has put rules in place to form safe boundaries around us. He knows what lies beyond the safety of His watchful care. For our own good, He also allows us to experience the consequences of sin. Decisions based on convenience often lead to dead ends. Letting His Son die for our sins certainly wasn't convenient for God.
The wisdom of following God's way leads to eternal life. Why not follow His rulebook and experience eternal life?
(Photo courtesy of pixabay.)
(For more devotions, visit Christian Devotions.)
---
---