Let the godly sing for joy to the LORD; it is fitting for the pure to praise him. Psalm 33:1 NLT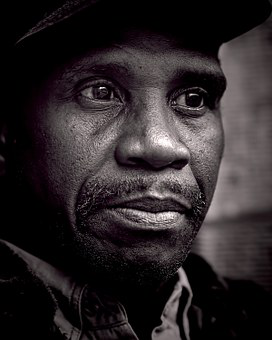 The house looked as if it were willing to give itself over to the constant urging of gravity.
Not far from my childhood home of Onekama, Michigan, was a lonely snow-covered road which passed by a dilapidated farmhouse. In this home lived a remarkable man who left a permanent dent in my heart.
Bill Brown was married to an unappreciative woman and had a disrespectful son. They owned no vehicle and lived on Social Security. He often trudged several miles to the store in the snow to purchase a meager number of rations. His clothing never seemed to change.
I met Bill because my family picked him up every Sunday morning and evening for church. My dad owned a 1976 Jeep CJ-7, which wasn't the best vehicle for hitchhikers. But Bill voluntarily squeezed into the backseat. This uneducated, smelly old man with few teeth left in his constant smile would then sing the only song he cared to know: "The Lily of the Valley."
For two years, Bill endured hunger, bitter cold, spousal contempt for his beliefs, and disrespect from his son. Yet he sang on. I was only seven years old but could see there was something special about him.
As a young child, I shared something in common with Bill. We both loved Jesus and referred to Him as our Savior. Whenever I hear this beautiful song, I choke up. But my greatest memory isn't Bill's inability to carry a tune; it's the living fire in his eyes. He showed me how to be content in the love of Jesus, no matter my lot in life.
I sometimes catch myself feeling sorry for myself and complaining about how things don't seem fair. Then embarrassment sets in, and I remember Bill—a man who truly understood the promise of Jesus to never leave or forsake us. He may have been hungry, cold, and unloved by mankind, yet he thrived on all he needed from his first love: Jesus.
We moved away after two years, and I never learned what became of Bill Brown. But I look forward to arriving in heaven and having him meet me. I want to tell him what an impact he had on a young boy.
Tell someone today how much they impact you.
(Photo courtesy of pixabay.)
(For more devotions, visit Christian Devotions.)
---
---