I praise you because you made me in an amazing and wonderful way. What you have done is wonderful. I know this very well. Psalm 139:14 NCV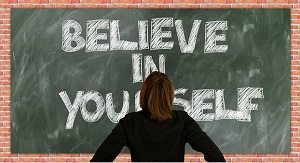 "That's just not good enough."
I heard those words when I messed up at work—the same words that have echoed in my mind since I was in grade school.
My feeling of not being good enough started in fifth grade. My math teacher, with good intentions, made me re-do all my incorrect problems until I got them right. I had to stay after school and miss fun activities. At the time, I felt as if I were being punished and that I was the dumbest person on earth.
I praise you because you made me in an amazing and wonderful way. What you have done is wonderful. I know this very well. Believing the words of this psalm is difficult, especially when I make a mistake. I fight to remember that just because I got an "F" or am not as smart as someone else doesn't mean God didn't make me in a wonderful way.
God values me so much that He allowed His Son to shed His blood for me on the cross so I could spend eternity with Him. He would have done that even if I were the only person on earth. I may not be the smartest person, but He has a purpose for me being here. I am not perfect—I do have a sinful nature—but I am not the only one who makes mistakes. Even though I don't see myself being made in a wonderful way, I am magnificent in God's eyes.
Don't view yourself by what the world says, but by what God says about you.
(Photo courtesy of pixabay.)
(For more devotions, visit Christian Devotions.)
---
---