A wrathful man stirs up strife, but he who is slow to anger allays contention. Proverbs 15:18 NKJV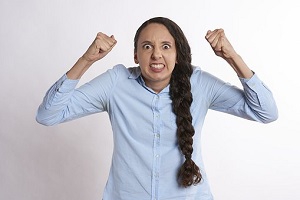 What would a day without strife look like?
A stream of strife pours into our lives daily. News headlines, social media rants, and reality TV scream at us 24/7. From a royal family to the family next door, worldwide discord is on the rise.
Imagine a challenging day at work. On the way home, you stop at the supermarket, spot a cashier who has no line, and direct your cart toward her. Suddenly, a woman cuts in front of you and says, "Sorry, but I'm in a hurry!" Is it possible to be slow to anger in such a situation? Easy, no, but possible with God's help, yes.
Thankfully, we don't have to be victims of this drama. We can defuse conflict by slowing our anger. Doing so makes us like God who is slow to anger and abounding in mercy. Since we're called to imitate Him, it's important not to lose our temper.
Along with being merciful to others during potentially explosive situations, we should be slow to get angry with ourselves. Many remain enraged with themselves for things God forgave them for years ago. When we hold on to self-anger and guilt, it's as if we're saying, "Lord, I know You forgave me, but that's not good enough. I'm going to continue punishing myself to compensate for what I did."
One of the most effective tools to help us be slow to get angry is forgiveness. Whenever we sense an interaction with someone is leading to strife, we should immediately set our minds to forgive them. Jesus taught us forgiveness is essential, and He modeled it Himself—even on the cross. God fully equips us to forgive and be slow to anger.
Be slow to anger so you can help minimize strife in a strife-filled world.
(Photo courtesy of pixabay.)
(For more devotions, visit Christian Devotions.)
---
---