God has not given to us a spirit of fear; but of power, love and a sound mind. 2 Timothy 1:7 KJV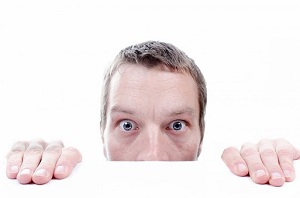 Lying in a hospital's isolation ward, forbidden to get out of bed, is hard.
I was in the hospital, donned with yellow socks that meant I was forbidden to get out of bed. To make sure, an emergency alarm that screamed if I tried to escape monitored me. That meant even the bathroom was verboten, an embarrassing situation indeed. After seeing if I was faster than my nurses, I learned they must have track shoes as they pounced on me. Of course, they came at me with full face masks that even covered their eyes, making them scarier.
After two days, my first vials of blood came back: one positive and one negative. The masks stayed on. Then, in the second bloodletting both came back negative, and I earned my grey socks, which meant I could get out of bed without being attacked. A great relief since that meant I could access the bathroom. I took little walks around my private room—still dizzy from the effects of dehydration and a septic getting into my bloodstream.
Four days later, I went home—unfortunately with pneumonia from the hospital stay. Seeing my General Practitioner the next day, I was surprised at how worried he appeared. He said a hospital pneumonia that is virulent and can only be treated in a hospital was making its rounds. He immediately gave me a steroid shot and several strong antibiotics and prayed for me. He is a devout Christian with verses on the walls of his office.
Since Coronavirus was still a possibility—and because I'm 80 and have compromised health—many of my family and friends doubled down in prayer for healing and wisdom. I asked my Lord for wisdom from His Word for an answer to our Coronavirus panic. He gave me today's verse.
Whenever worry and panic overwhelms us, we can trust that our Father knows best and that Jesus will never leave or forsake us.
Ask God to take away your spirit of fear and replace it with a spirit of trust.
(Photo courtesy of pixabay.)
(For more devotions, visit Christian Devotions.)
---
---