Now we ask you, brothers and sisters, to acknowledge those who work hard among you, who care for you in the Lord and who admonish you. Hold them in the highest regard in love because of their work. Live in peace with each other. 1 Thessalonians 5:12, 13 NIV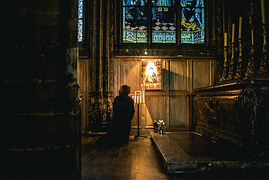 The typo caught my attention and tickled my funny bone. It described the Old Testament prophet Enoch as "a holy and uptight man."
After I stopped chuckling, I nodded my head. Yup, how true of a man of God. I'd been a pastor's wife for thirty-four years. Not only did I know my husband's heart and mind well, but I also had known many pastors and missionaries. The description could be said of most of them. They were indeed holy and uptight.
While these lovely servants have many blessings from the Lord and from those they serve, they also receive a good bit of criticism from people who have hidden agendas and unnamed expectations.
My husband was often teased about his one-day-a-week job. One day a week, my eye. His responsibilities had no end, and he took them seriously. Every morning, he had to pick and choose from a list of meetings, home and hospital visits, and counseling appointments—as well as find time for study and prayer. Then he had to carve out time with his family and for himself—which he did by walking in the woods or grubbing in the garden.
I remember one troubled church we served where I was critical of the elders. One day during my devotion, I was reminded by the Spirit that I spent more time putting them down than I did praying for them. They immediately went on my prayer list. My attitude began to change as I consistently brought them before the Father by name.
Our godly leaders need our prayers, support, and encouragement. Take time to send your pastor, his wife, or a missionary family a note to let them know you are thinking of and praying for them. If you hear someone criticize them, speak a word of support or choose to step out of the conversation.
Pray today for your holy and uptight leaders. They will be blessed—and so will you.
(Photo courtesy of pixabay.)
(For more devotions, visit Christian Devotions.)
---
---