But sanctify the Lord God in your hearts, and always be ready to give a defense to everyone who asks you a reason for the hope that is in you, with meekness and fear 1 Peter 3:15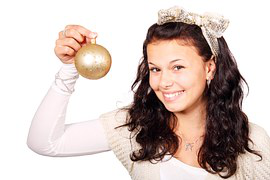 It never fails. I hear the same question every year: "Are you ready for Christmas?"
Seems like a simple question. Maybe it's the same as a friendly "How are you?" to which we dutifully answer, "I'm fine, how are you?" It's just something we do.
Last year I paid closer attention to how many times the question came up. It started right after Thanksgiving and kept repeating itself until right before Christmas Eve. I began to analyze the words and tried to figure out what the asker was really trying to find out. Perhaps they were asking if my shopping was finished or if I had put up my Christmas tree and decorations. Maybe they were wondering if I had nailed down family plans, Christmas dinner, or holiday travel.
After all my analyzing, I wondered if I truly was ready. Had I made a place in the busyness for the Christ of Christmas? Was I quick to let others know that He is the real reason for the season? Was I was prepared to kneel before the babe in the manger, acknowledging Him as Savior and Lord?
Webster's Collegiate Dictionary defines ready as "being prepared mentally or physically for some experience or action—to plan in advance, work out the details, and get into a proper state of mind."
Maybe that's the ultimate answer: a proper state of mind. I love the song that talks about needing more Christmas all year long. It's a wonderful, magical time of year, but the real magic—the real Spirit of Christmas—is the supernatural, life-giving presence of the King of Kings and Lord of Lords. Once we invite Him in, He promises to be with us always—24/7, 365 days of the year, and then for all eternity. We can celebrate Him every single day and not have to wait until the calendar says it's time to pull out all the stops.
I love Christmas—the sights, sounds, and smells. But I especially love the One whose birthday we celebrate … the One who gave His all so we might gain everything. "Are you ready?" has taken on new meaning for me.
The next time someone asks if you're ready for Christmas, say confidently, "Yes, I'm always ready. Are you?"
(Photo courtesy of pixabay.)
(For more devotions, visit Christian Devotions.)
---
---