I delight greatly in the LORD; my soul rejoices in my God. For he has clothed me with garments of salvation and arrayed me in a robe of his righteousness as a bridegroom adorns his head like a priest, and as a bride adorns herself with her jewels. Isaiah 61:10 NIV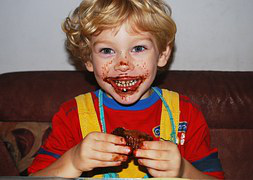 His parents frequently reminded him he was not ready to go.
My sister's three-year-old grandson loved to travel, whether he was properly attired or not. Sometimes, he had on dirty clothes. At other times, he was not wearing enough. His clothes sufficed for playing at home in the dirt, but not for anything else.
On one trip—after he was properly dressed—he gazed at the clouds and said, "Nanny, Jesus make the clouds?"
After her "He sure did," he continued, "Nanny, Jesus live in the clouds?"
She told him Jesus lives far beyond the clouds, and someday we'll have the best time with Him there—but He's not ready for us yet.
She could almost see the wheels turning in his little brain before he said, "Nanny, Jesus not have His clothes on?"
Our three-year-old had not learned Jesus abides in heaven, ready to go. Robed in eternal power and glory, He will return at the appointed time.
Jesus remains ready, but we must consider whether we are fully clothed in His righteousness or still dressed in filthy, inadequate rags. Stripped of His clothing and hung on Calvary's cross, Jesus paid the price for our garments of salvation which is all we need to face a sinful world and to stand before our righteous God in heaven—but we must choose to wear them.
Jesus provided everything required for the journey ahead. Let's spread the word: It's time to get dressed and ready to go.
(Photo courtesy of pixabay.)
(For more devotions, visit Christian Devotions.)
---
---