See, I have engraved you on the palms of My hands. Isaiah 49:16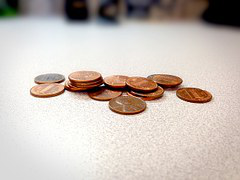 I was feeling emotions I'd not felt in years, sad and painful memories that wrapped me in a cocoon of sorrow.
I had just finished reading a book about a little girl who was abused by a neighbor. It brought back memories I thought I'd put to rest. Funny how a few words on a page can cause thoughts of abandon to take you where you were many years before—with the shame and sorrow it contained.
In the book, the little girl found a wheat penny embedded in the blacktop of a parking lot. She dug it out, held it in her hand, and then imagined herself in the palm of God's hand—safe and warm as the penny was in hers.
Getting groceries was next on my list, and I drove foggy-headed to the little market in our small country town. As I paid, I looked into the bowl of pennies sitting by the cash register for people who might be a few cents short. My breath caught in my throat and an unexpected smile covered my face. A wheat penny sat on top. I picked it up and held it in my hand. It felt warm.
On the way home, I held the penny because I knew God had put it there so I would know how much He loves me. He wanted me to realize I was safe in His hand—far away from the painful memories of the past.
Today the penny sits on my windowsill above the sink so I'll never forget God's kindness. No matter how far into shame and pain I find myself, He's there showing His mighty love in little ways.
Notice the tiny things God does for you every day.
(Photo courtesy of pixabay.)
(For more devotions, visit Christian Devotions.)
---
---