Love your neighbor as yourself. Luke 10:27b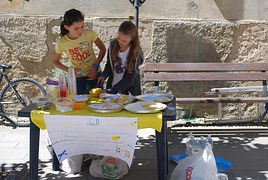 "Can I have fifty cents?" my daughter asked.
"What for?"
She pointed out the living room window to three sweaty children from our neighborhood. They were waiting for customers at their lemonade stand.
"They must be very hot out there," I said.
"That's why I want to buy some lemonade right away. I remember waiting for people to buy it from me," she said, smiling.
I handed her two quarters, and she skipped out the door. Her simple gesture reminded me there are opportunities to love people every day. If I think about the way I want to be treated and ask God for direction as I consider others' needs, I will find plenty of people to love.
Find someone in your family, your work place, or your community who would benefit from your kindness. Whether it is a relative, a co-worker, or a neighbor, don't leave them waiting.
Ask God to show you someone in need, and share His love with them today.
(Photo courtesy of pixabay.)
(For more devotions, visit Christian Devotions.)
---
---