The Lord of hosts is with us; The God of Jacob is our stronghold. Psalm 46:7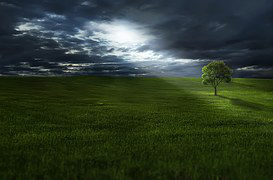 When the package from the Holy Land arrived, I turned the cobalt blue cylinder over in my hands.
Robin and I became friends while attending a low-residency graduate school program. During meals, we chatted about our families. Both of us had adopted two children. Because our kids were now in their teens and twenties, we found parenting these young adults challenging and shared how our faith was the foundation of our lives. Robin was Jewish, and I was a Christian.
As our children matured, her son found employment in retail sales while my son, Mat, advanced in his military career. After a deployment to Afghanistan, Mat was diagnosed with PTSD and depression. One snowy February night, two soldiers in blue uniforms delivered the news that despite counseling, our son had ended his life.
When my shaking fingers could finally tap out a message, I sent a text to Robin who immediately wrote back, "I will be saying Kaddish every morning at our synagogue. May those prayers bring you comfort."
On the day of Mat's funeral, friends surrounded my family with love. After the last notes of taps faded away at the graveside, my husband and I clutched our folded flag, knowing life for our family would never be the same.
A few day later, Robin wrote an email saying she was ordering me a Yahrzeit candle holder from Israel. "You should burn the candle on the first anniversary of Mat's death to remember and honor his life."
Because my husband and I are farmers, Robin had chosen a candle holder decorated with different agricultural designs. Then I spied the name of the artist on its bottom edge: Emanuel. Only God could have selected and sent to a Christian in Michigan a holder painted by an Israelite bearing one of Jesus' titles, reminding me God is with us.
The Lord was and continues to be our stronghold who carries us through the darkness of grief. I know the God of Jacob will be with us whatever challenges and trials erupt during our journey through life. He will shelter us from the storms and provide the courage to walk forward in hope.
No matter what you face in life, remember God is with you.
(Photo courtesy of pixabay.)
(For more devotions, visit Christian Devotions.)
---
---