...raised us up with Him, and seated us with Him in the heavenly places in Christ Jesus, in order that in the ages to come He might show the surpassing riches of His grace in kindness toward us in Christ Jesus. Ephesians 2:6 NASB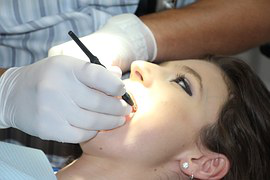 Prone in the chair, I allowed my mind to drift towards the things of God.
As the dentist began his periodic check and clean, I saw the empty cross—and the stone rolled away from the tomb. Then as I was ascending to see Jesus in the throne room of heaven, the dentist spoke. Coming back to earth, I heard him say I had one cavity.
"Did you want to take care of it today?"
I answered with a nod.

The real fun soon began. The numbing, the drilling, the water spouting. We all know the drill (no pun intended). The noise and sounds distracted me so much that it took intentional effort to get back to the things of God. Then I realized how tense my body was. My hands clenched together, and my shoulders became rigid.
How quickly immediate circumstances can affect our whole being. I allowed God's Spirit to speak to my spirit. Calm invaded my soul, and I was able to visit the throne room and see Jesus. But this time it was not as easy.
Sometimes I think God allows distractions so we will press on and pursue Him. The rewards are immeasurable, for He never disappoints. Allowing daily life and circumstances to draw us away from being close to our Saviour isn't wise.
Let determination and desire—even in the midst of distractions—draw you closer to God so you can see above the noise.
(Photo courtesy of pixabay.)
(For more devotions, visit Christian Devotions.)
---
---