Do not store up for yourselves treasures on earth, where moths and vermin destroy, and where thieves break in and steal. But store up for yourselves treasures in heaven, where moths and vermin do not destroy, and where thieves do not break in and steal. Matthew 6:19-20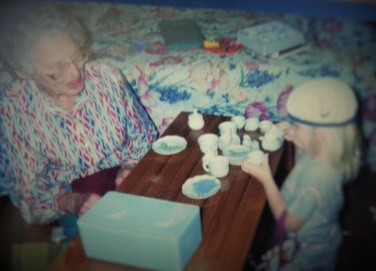 Going through the belongings of a loved one who has gone to be with Jesus can be uncomfortable.
When I married my husband, I became part of his family. We lived next door to his parents and grandmother, Olivia, who lived with them. Olivia had the beginnings of Alzheimer's and could no longer live alone. She had a small room at my in-laws with a few pieces of her own furniture and belongings.
Her home sat empty until she died. Then it was necessary to sell the home. As we loaded up boxes and sorted through her belongings, an overwhelming sense of sadness flooded me. This lady and her husband had worked years to pay for this house and provide a home for their family. Most of her belongings would be sold or packed away in an attic. No one wanted them. Someone else would be using Olivia's things, and someone else would be living in this home she had worked to pay for and to make comfortable for her family. I felt such grief.
I realized what was bothering me. I was putting myself in Olivia's place. The same could happen when I got old. God allowed me to wallow for a little while on these thoughts. Then He brought a Scripture to my mind that gave me perspective.
Passing down memories to your children in the form of earthly treasures isn't sinful. The sin comes in leading a life devoted to this while neglecting storing up treasures in heaven. I had the wrong perspective. The same thing will happen any time we take our eyes off of Jesus.
I am happy someone is making use of the things that meant something to Olivia. She was a godly woman. I have no doubt she is in heaven enjoying God's riches, and I don't believe she misses her china. Her legacy was the example she set for her family and the obedience she gave to God.
Leave a legacy for your family that provides an example of storing treasures in heaven.
(Photo courtesy of author.)
(For more devotions, visit Christian Devotions.)
---
---