To give them beauty for ashes, The oil of joy for mourning, The garment of praise for the spirit of heaviness. Isaiah 61:3 NIV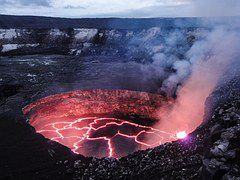 Some of the most serene islands were formed by volcanic eruptions.
The Hawaiian Islands have beautiful landscapes—rich, fertile soil, bountiful fruit, and breath-taking flowers. Once, they were uninhabited—burnt and scarred from the flow of molten rocks and overcome by the blazing heat of an eruption so forceful nothing could stand in its path. Now, they are a place of bounty, showing little signs of their past experiences. They even use the eruptions to their advantage by creating a rich soil where only beauty prevails.
Volcanic eruptions are usually unexpected. Although people who live in their shadow may have heard of them and felt the tremor of their muted rumblings, the explosions usually come with shock and fury. Lava spews into the air and then falls to the ground at great speed in a shower of white, black, and red smoke, dust, and fire.
Some incidents in our lives are just as explosive. Unexpected and devastating, they leave emptiness where once there was joy. Events such as a loved one's death, heartbreak, chronic illness, terror attacks, or natural disasters like earthquakes and hurricanes. These change the landscape of our lives, erase the greenery (contentment and success), and leave charred surfaces and ash (a dull ache and a grey cloud over our days). We must come to terms with the devastation, attempt to redefine ourselves, and adjust our perspectives.
The story of the islands does not end with the eruption; it is a continuous creative process. After the burns and scars, after the dust settles, and after the rain comes, a new layer is created and the islands grow—higher and wider, richer for the experience, and ready to be covered in fresh life.
Disruptions in our lives are never meant to destroy us. While we may suffer loss and pain, there is also renewal–an expansion of our previously defined limits and strength which could never have been uncovered otherwise. The result is the creation of a soul so rich that only bounty will come from it in due time. A bounty grounded in the discovery of our Creator and a trust developed only through experience. An abundance of peace, joy, and love that allows us to have compassion for others as they experience eruptions.
Be encouraged. In place of the ashes, Yahweh gives beauty.
(In memory of Keno and Kirk)
(Photo courtesy of pixabay.)
(For more devotions, visit Christian Devotions.)
---
---