And He said, "My presence shall go with you, and I will give you rest." Exodus 33:14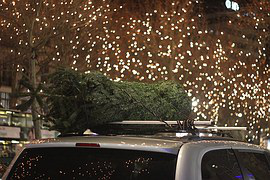 Exhaustion had hit, replacing the joy of Christmas with anxiety.
It was the Saturday before Christmas. I sat on the floor of my bedroom, surrounded with mountains of presents still to wrap—not to mention the long list of to-dos still waiting to be done. I knew it was my job to make sure my family had a memorable Christmas—focused on Jesus—but I just couldn't see how to make that happen.
Somewhere along the path from Thanksgiving to Christmas, I'd lost my focus. Everywhere I looked, the season seemed shallow and meaningless. If I couldn't find God in the season, how was I going to make sure my three boys found Him?
All I could do was pray. It wasn't even a good prayer—more just a cry for help. Almost before I said amen, our oldest son—an energetic seven-year-old, knocked on my door. "Can we all go Christmas light looking tonight, please?"
I mentally groaned. Something else to do. Not exactly an answer to prayer. I slipped out of my room, making sure I kept him from seeing the presents. "I don't think so. I have too much to do."
"Please?" He drew the word out, and his two little brothers joined in chorus, bringing their dad in from the living room.
I didn't want to disappoint them, and maybe if they were out of the house I could play catch up. "Maybe your dad can take you without me?" I turned pleading eyes to my husband.
"No, we want all of us to go!" The boys weren't buying into the idea.
My husband put a comforting arm around me and leaned to whisper into my ear. "I'll help you later. This is important." He turned to the boys. "I think it's a wonderful idea, and we'll all go, even your mom."
We did go that night, the five of us crowded into our ancient mini van. As we drove around, I listened to the excited exclamations of my boys and realized God had answered my prayer. He'd shown me that what needed to get done would get done, but the true meaning of Christmas wasn't found in presents, but in presence.
Let the presence of God and others bring you joy this Christmas.
(Photo courtesy of pixabay.)
(For more devotions, visit Christian Devotions.)
---
---