I have been crucified with Christ. It is no longer I who live, but Christ who lives in me. And the life I now live in the flesh I live by faith in the Son of God, who loved me and gave himself for me. Galatians 2:20 ESV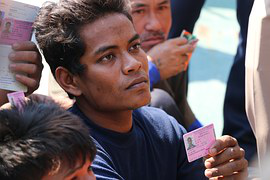 The world's identity system is broken and empty.
According to the world's philosophy, our identity is based on physical appearance, wealth, education, skin color, religion, sexual preference, clothes, and cars—leading nowhere but to dead ends and disappointment. When we come to Christ by faith, we are set free from the world's identity system and can be the person God intended.
Even the family God allowed us to grow up in—whether healthy or filled with pain and brokenness—no longer has to define our identity. We take on a fresh, new identity when we place our faith in Christ. All the amazing gifts and talents God put in us when He created us—along with our experiences—can be used in God's plan to give us a life of purpose, meaning, hope, and eternal peace.
When we come to God the Father for forgiveness of our sins through faith in Christ and His completed work on Calvary's cross, a transformation takes place. At that moment, God the Father—through His indescribable love and amazing grace—forgives us, and God the Holy Spirit moves in. From that moment, we can experience God every day as we allow Him to lead and direct our lives.

With God directing our life, we can discover our real identity—a discovery that's impossible apart from faith in Christ. Everything else is broken and fading away.
If you have placed your faith in Christ, decide today to live fully in your identity in Him. Don't allow the world to lead you. Listen to God who lives in you and is leading you.
If you haven't claimed your real identity, do it today.
(Photo courtesy of pixabay.)
(For more devotions, visit Christian Devotions.)
---
---