But one thing is needed, and Mary has chosen that good part, which will not be taken away from her. Luke 10:42 NKJV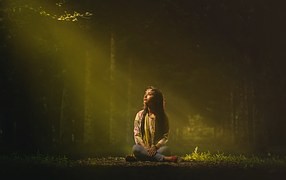 Martha owned a house in a village that Jesus visited.
One day Martha invited Jesus for a visit. When Jesus came into her house, her sister, Mary, immediately went over and sat at His feet and listened to His word. There was something about Jesus that captured her heart.
Since Martha was a good hostess, she performed the necessary duties for entertaining an honored guest—but soon became ticked at her sister for sitting there and not helping. She complained to Jesus about her lazy sister and asked Him to tell her to get up and help with the chores.
With a loving yet firm rebuke, Jesus told Martha she was getting anxious when she shouldn't be. Her spirit wasn't at peace. She was so concerned about serving that she had lost her joy over Him being there. She needed to relax, slow down, and enjoy His visit.
According to Jesus, there are only a few necessary things and only one needful thing: sitting at His feet and listening to His words. He desired a warm relationship, not anxiety over everything being just right. Jesus told Martha that Mary had chosen the good part. Serving duties shouldn't take that away.
Jesus taught Martha a lesson: serving Him wasn't as important as visiting with Him and listening to His words. Relationships come first. We don't know whether sitting and listening to Jesus caused Martha's stress or whether she had a personality change. We hope it was the latter.
Our ongoing relationship with Jesus is determined by our coming to our Lord and sitting at His feet, whether we are a Martha or a Mary. What describes us will determine how much of our service acts will be rewarded after the chaff burning ceremony at the end of our lives.
Sit and listen at Jesus' feet. You'll be glad you did.
(Photo courtesy of pixabay.)
(For more devotions, visit Christian Devotions.)
---
---