You shall no longer give the people straw to make bricks, as in the past; let them go and gather straw for themselves. Exodus 5:7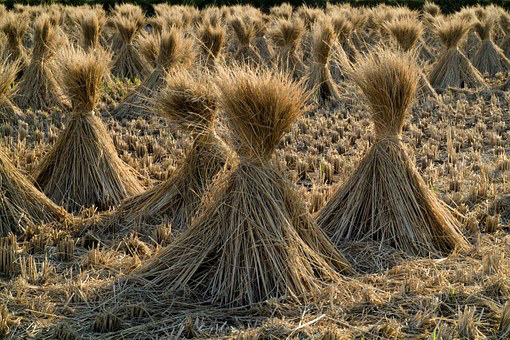 It's only straw. But having it delivered to them made it easier to make bricks.
People in other countries still make bricks the old fashioned way. Soil or clay and straw and water are mixed and beaten down with the people's bare feet. Hard work, even when all the ingredients are available. Later, the mixture is formed into bricks.
Everything was going as expected and desired for the Israelites—until the straw was taken away. They would have to gather their own straw, putting their quota for the day in serious jeopardy. God sent Moses and Aaron on a mission that really messed things up between the Israelite slaves and Pharaoh. It may have only been straw, but for the Israelites it was the "straw that broke the camel's back."
Straw is often taken away from us too. Opportunities evaporate and life becomes more difficult. Our friendly and caring boss is replaced with an unreasonable one. A good neighbor moves away and is replaced by one whose sole purpose in life seems to be to make your life miserable. We find ourselves in debt, or our loved ones endure illnesses. Life brings many changes—changes we're not prepared for or don't want to deal with.
God let the Egyptians take away the Israelites' straw. For believers, nothing happens that God doesn't allow. He is also the solution to new situations. We have to look to and depend on Him to get us through. The prophet Jeremiah said, "Ah, Lord God! It is you who have made the heavens and the earth by your great power and by your outstretched arm! Nothing is too hard for you" (32:17).
While making bricks without straw was more difficult for the Israelites, it wasn't impossible. Neither will God abandon us to the control of the world. He will light our way with His presence, just as He did for Israel. There is no situation, difficulty, or challenge that poses a problem too big for Him.
Trust God with everything and everyone you hold dear. The enemy will still take things away, but remember, It's only straw.
(Photo courtesy of pixabay.)
(For more devotions, visit Christian Devotions.)
---
---