He who was seated on the throne said, "I am making everything new!" Revelation 21:5 NIV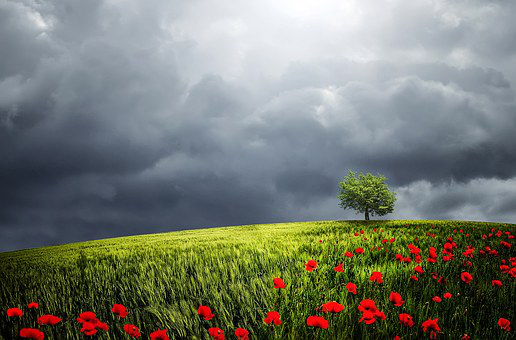 Wyatt, my seven-year-old grandson was sitting on the couch in the living room when I came into the house. Pillows propped him up, and a fuzzy brown monkey rested in the crook of his arm. Wyatt has a severe form of cerebral palsy caused from a rare intra-uterine stroke.
I said his name. He turned his head and looked for my voice. I asked how he was feeling. He opened his mouth.
"I know you've been a good boy today," I remarked.
He grinned and turned his head to the side, his long eyelashes dipping over his big blue eyes.
"The weather has been unusually warm for this time of year."
He blinked.
"Maybe, if things were different, you might have ridden a bicycle on a day like this."
He looked at me.
A robin sang in the maple tree outside. They've always been symbols of spring, a time when everything becomes new again. Flowers sprout from the earth, and leaves turn vibrant green. What has seemed dead and lifeless all winter lives again.
Just like the passing of winter carries the promise of spring, God's Word carries a promise in Revelation 21:5 that I cling to: "He who was seated on the throne said, 'I am making everything new.'"
Tears stung my eyes as I looked at my grandson's limp hands. "This new place will be a place where all little boys will be able to run and play," I told him.
He looked at me, and a bit of drool dribbled from his mouth. I sat down next to him and held his hand. "That includes you, Wyatt."
He gushed a radiant smile.
Even though there are days when all I see are things Wyatt can't do, I hold to God's promise that He will make everything new. I look forward to the day when my grandson's broken little body will be made new. I can't wait to see how the touch of the Creator's hand will give new life to his limbs and restore speech to his lips.
Only the loving God of all creation could promise to fix what is broken and make everything new again.
Let God fix whatever is broken in your life.
(Photo courtesy of pixabay.)
(For more devotions, visit Christian Devotions.)
---
---