Instead, you ought to say, "If it is the Lord's will, we will live and do this or that." James 4:15 NIV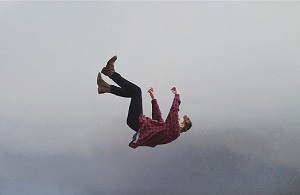 One minute I strode up the rocky and remote access road behind our high school, and the next I lay sprawled on the ground.
One slip on a rock, one misstep, and in one second this happy walker morphed into a casualty of exercise. I didn't know it then, but my hip was broken. I lay on the ground, wondering if I could get up.
Pulling myself to a standing position, I looked around. At least fifty yards separated me from the nearest paved street. Tall weeds and brush surrounded me. How could anyone spot me from here? I took a few steps. Although painful, I could walk, so I limped to the nearest road. As Providence would have it, I spotted a recycling truck just I sited the street.
A man shouted, "Do you need help?"
I waved my hand and hollered, "Yes!"
Two men ran through waist-high weeds to reach me. They shouldered my arms, walked me to the road's edge, and sat me on an overturned recycling bin. I phoned my husband.
After calling our doctor, I shuffled into the emergency room, leaning on a cane, while my husband parked the car. X-rays showed I had fractured my femur. A technician sat me in a wheelchair and rolled me into a room. Just before nurses poked, prodded, and drew blood, our doctor called. "You're going to need surgery," he said.
My mind hit the wall. A stumble in the road had stopped my marathon of plans.
We often make plans without thought of what our lives will look like tomorrow. James says our lives are like a vanishing vapor.
My plans were. We had to cancel a tropical vacation, and I had to miss a conference. Three months of recovery lay ahead, and physical therapy replaced long walks.
Although God did not cause my accident, He turned a mishap into a marvel. God is always faithful to give us His plans when we seek Him. I had been busy doing things for Him. Now I could sit at His feet and listen. My accomplishments took a backseat to my relationship with Him.
When making your plans, keep God's will in mind and know that plans can change.
(Photo courtesy of pixabay.)
(For more devotions, visit Christian Devotions.)
---
---