This hope we have as an anchor of the soul, a hope both sure and steadfast. Hebrews 6:19 NASB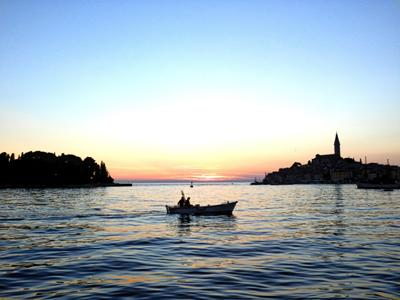 Anchors have always fascinated me. My dad, an avid fisherman, owned a twelve-foot aluminum boat, a tiny two-horsepower motor, and a homemade anchor. He would take my tousled-headed sister and I fishing. We resigned ourselves to donning those neon life jackets and would climb into that snub-nosed boat with those orange "boas" around our necks and seat ourselves on one of three benches. Daddy would pull on that lawn-mower-styled starter rope, and away we would go, "putt-putt-putt" across the lake.
When we arrived at "the spot," our job was not to swab the deck or watch for penguins but to lower the anchor quietly into the waters of our little community lake. Daddy used that anchor because he did not want to drift into the fishing area of someone else who might have arrived before we did. The anchor also held us over the "perfect spot" while we used all the worms we had dug that afternoon and tried all the bait in the tackle box. Because a wind might sneak up late in the afternoon, we would drift ever so slightly but never far from the spot where our anchor sat hunched, shamelessly grasping the bottom of the lake. We might encounter a little wave action from passing boats, but that anchor held us fast to an arc.
Those memories sweetened my whole life. Although Daddy's anchor did not have the ancient crosspiece resembling Christ's cross, I learned its lessons. I realized Jesus could be my anchor. He reached out to me like those bent arms of the anchor reached out to grab the rocks. No matter how murky life's waters become, although unseen, Jesus can see. He promises me calm in the middle of life's storms. He never cuts me loose to drift. While holding me, He touches people and circumstances in the arc of my influence. He knows the perfect spot to drop anchor so I can bring others to Him. The same way the anchor's rope flexes, I am learning to give in and take what He gives me. Like the happy little duck that keeps paddling through all kinds of weather, I continue onward with Life's Best Anchor as my own.
Anchor yourself in Him.
(Photo courtesy of morguefile and quicksandala.)
(For more devotions, visit us at www.christiandevotions.us.)
---
---